Perrenoud Roofing Inc. – Spokane Gutter Repair & Installation
---
Perrenoud Roofing Inc. also does seamless rain gutters.  We install steel or aluminum gutter in a 5 in "K" style gutter.  Gutters are available in a wide array of colors including an assortment of whites, browns, and even real copper.  Perrenoud Roofing Inc. can customize any gutter installation with an array of different downspouts from standard 2×3 downspout, to 3×4 downspouts for high flow areas, to chains downspouts that give a rustic appeal. Just ask and we would be happy to help you decide which color and downspout is right for you.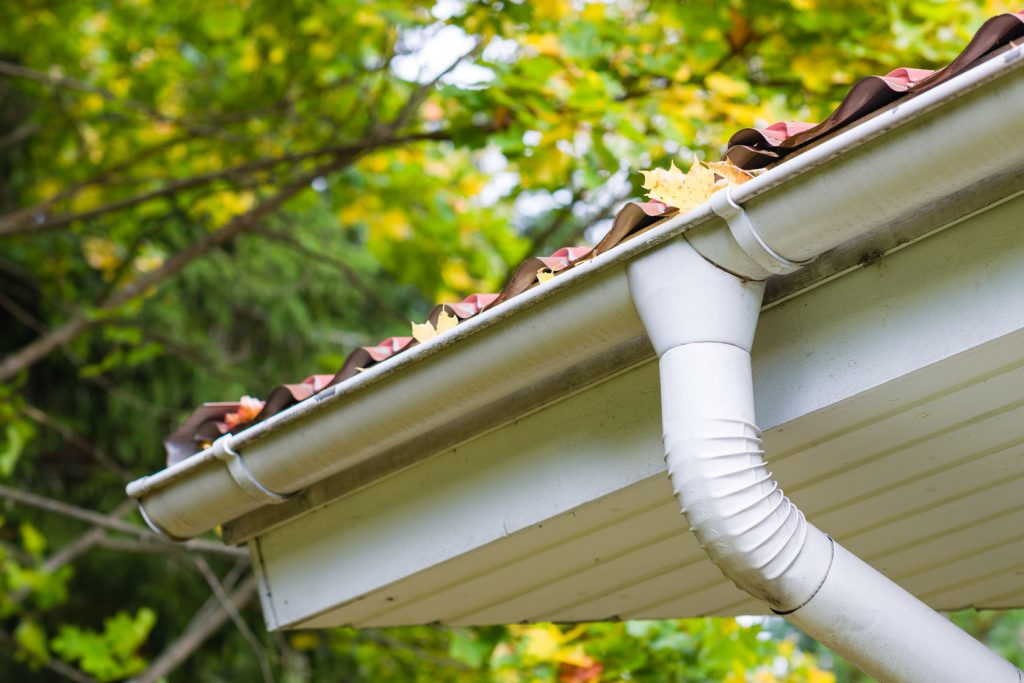 Perrenoud Roofing Inc. only uses solid metal hidden hangers to install your new seamless gutters.  These hidden hangers are far stronger that standard "spike and feral" installation systems.  We Install these hangers every 24 inches for superior strength and durability.  Our corners are double coated for superior leak protection.  The first coat goes between the two pieces of metal and the second coat goes over the top once they have been assembled.
Leaking Corners:
First, we scrape out the old sealant that's in the gutter. Then we clean the surface area of debris & mud. Next we scuff the surface of the gutter with sandpaper so the new sealant has something to grab onto. Finally we apply a coat of liquid rubber to the entire corner. We don't use generic caulking, we use high grade gutter sealant.   This process gives you a 5 year leak proof warranty from Perrenoud Roofing Inc.
Screw Anchor Replacement:
Your gutters are most likely held up with a smooth shaft nail. When we do a 'screw anchor replacement' we pull out all the old nails in the gutter, re-pitch the gutter if necessary, and replace the nails with solid metal hidden hangers that use screws to attach to the fascia. We give a lifetime warranty that the gutter will never pull away from the house again. When a gutter fills up with water it gets very heavy.  Combine that with the fact that the only thing holding your gutter up is a smooth shaft nail that has no real bite or hold and you can easily see why old gutters detach from the fascia.  When you call Perrenoud Roofing Inc. we don't just hammer the nails back in. We will replace your nails with solid metal hidden hangers.  To save your existing gutter let Perrenoud Roofing Inc. do a screw anchor replacement now.
Our gutters have a 5 year workmanship, no leak warrantywith a 20 year material warranty. You'll no longer have to worry about the finish of the gutter pealing, leaking corners, end caps, or seams, miss pitching, sagging, or gutters pulling off the house. Get a New gutter system installed by Perrenoud Roofing Inc. today.