Perrenoud Roofing Inc. – Spokane Roofing Contractor & Shingle Roofs
---
Composition shingles (also called asphalt shingles) are the leading choice for Americans because of their durability, versatility and quality. Many of the most beautiful homes in the US are constructed of composition shingles and they cover 4 out of 5 homes. Composition Shingles have a life expectancy of 30 years depending on the rating of the shingle.
There are many different styles and types of asphalt shingles. Perrenoud Roofing Inc. can help you decide which is right for you. "Certified installers of Pabco, GAF, IKO, Certainteed, Owens Corning.  Certified means Perrenoud Roofing Inc. can not only install the shingles properly, but can give an "extended or Preferred" warranty on the shingles installed on your home. Not every company can give these types of warranties.  Please ask about these warranties."
The Benefits
There are many benefits of composition shingles which are readily available and easy to maintain.
What Composes composition Shingles?
Composition (also called ASPHALT) are either organic-based or fiberglass-based. We exclusively use fiberglass composition shingles for our customer's roofs because fiberglass shingles are more flexible and durable than organic. Fiberglass composition shingles are made of tiny glass fibers of varying lengths and then covered with a layer of asphalt and then weather-resistant mineral granules.
.
What are the different types of composition shingles?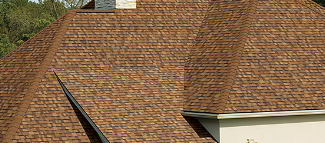 Strip Shingles – Are made to be three times as long as they are wide. These are distinguished by the number of tabs they have. The most common type of strip shingle is the "three-tab" shingle. Different textural and lighting/shadowing effects can be achieved with strip shingles depending on the number, shape and alignment of the cutouts.
Laminated Shingles – These special shingles contain more than one layer of tabs to create extra thickness. They are also referred to as three-dimensional or architectural shingles because they create  visual depth on a roof and impart a custom look. Laminated shingles are a favorite among builders, roofing contractors and homebuyers.
Call us at 509-483-7100 or fill out our online contact form.